16 janvier 2013
Feathers were used as a mainly element in the design of a wedding dress was in fashion in europe recently.It looks very single and thick
if a wedding dress was only decorated with beads or laces. But if it add some feathers into a wedding dress,the feather waggled with the
movement of your body, the feel of lightness was increased a lot,also it can upper the motivation of elegance. Nowadays,you can find the
elements of feathers in many advanced customized wedding dress brands.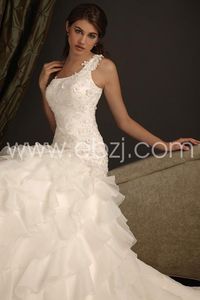 (This article was written by ebzj.com, reprint please indicate)
The chicken feathers and ostrich feathers are the two kind of feathers used mostly in a wedding dress.But when it talks to a chicken
feather,many people may have a thought that it is very cheap, but in fact after bleaching and dying, the pure cocktail feather will looks
very superior and with good texture.It can be used in a corset,the tiny radian can match your chest shape very well. While the usage of
ostrich feathers is more freestyle,it can be decorated in laces,looks like a fairy in a fairy tale.
Here let me introduce some styles of wedding dresses with feathers decoration.
In 2010,there is a very popular wing feather wedding dress.The feathers were neatly arranged in the chest area and on the waist
area,decorated with beadings and laces at the tail part of a feather.And the corset was made of half-transparent organza,also matched with
binding fish bone,the skirt was covered with tiered petal shape tulles,it looks like elegant and charming bellet dancers.
In the year 2010,we focus on using ostrich feathers. Because they are very light and full of elastic,decorated those ostrich feathers in a
wedding dress,it lookd extrodinary beautiful when it waggled with the movement of your body.
The style of black and white wedding dress was introduced before. Decorated black ostrich feathers in laces separately,it will recall us
the black Swan in The Swans.The hand craft of this ivory wedding dress is very similar to the black one.it has a very great effect either.
At last, i want to introduce this white wedding dress,it was decorated with the feathers in satins,it is a bit different in vision; thick satin with the light feathers,which can results in a very strong comparison. Lovely elements were added in a solemn feeling wedding dress.
It looks amazing.
Also we can make a very classic corset with feathers decorations. It is very classic and full of elegance, it can be match up with
different skirts according to customers different tastes.


Commentaires sur Light as fairy,Beloved feather wedding dress